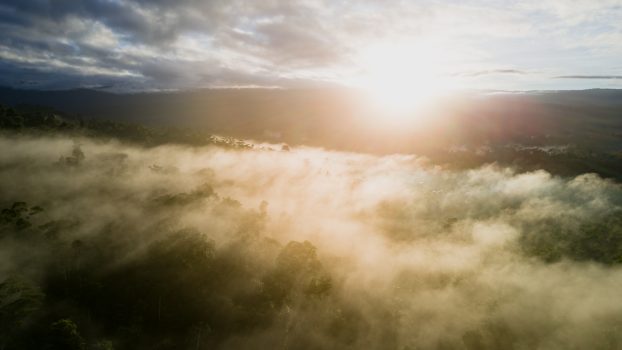 Behind the lens with Cool Earth's in-house photographer
Avoiding fish-eating snakes. Taping up a leaking kayak. Interviewing in a monsoon.
There are rarely two days the same when it comes to working in Cool Earth's rainforest partnerships. And when it comes to documenting and photographing people and places supported by Cool Earth's donors, this is never truer.
Cool Earth's in-house photographer Lewis Gillingham talks us through his top images of 2019, and the process and challenges of taking photographs and collecting stories from such awe-inspiring places.
The day that these photographs were taken was memorable for a number of reasons. After two hours of travelling through the dense jungle on small motorbikes, via a rock temple and a bat cave, we arrived at the river. We were there to speak to members of the Fauna & Flora International team, our partner organisation in Cambodia, who regularly patrol these dark waters to keep an eye on the numbers of the endangered Siamese Crocodile. This steadfast group of conservationists work tirelessly to see this species flourish, for the good of local people and a healthy forest ecosystem.
Having decided to leave the paddling to the professionals, I filmed local crocodile wardens Sim and Yem cast off and begin their searches. We launched the drone and watched as the meandering river was revealed winding through the pristine Cambodian forest, the wardens scanning for the glinting eyes of these rare reptiles.
What makes the extent and severity of climate breakdown difficult to grasp, is that it is, for the most part, invisible. We cannot feel rising atmospheric carbon levels. This intangibility makes raising awareness a challenge for photographers and climate change communicators. However what we can see, and capture, are the effects that a changing climate is having on people and places right around the world.
Along the coastline of Papua New Guinea are stark reminders that many are living with the effects of climate breakdown every day, and the difficult choices that are having to be made as a result. Arriving by sea on the beach in Gadaisu, after three days in the pouring rain at the height of what was supposed to be the dry season, we came upon 'the lighthouse'.
This huge and ancient tree lying on the ground was a tree older than memory, a landmark for those travelling by sea and meeting point for the people of the village. It was this imposing tree that in fact provided the shade for the celebration of Cool Earth's partnership with Gadaisu just a few years ago. Now, the latest casualty to rising seas along this coastline.