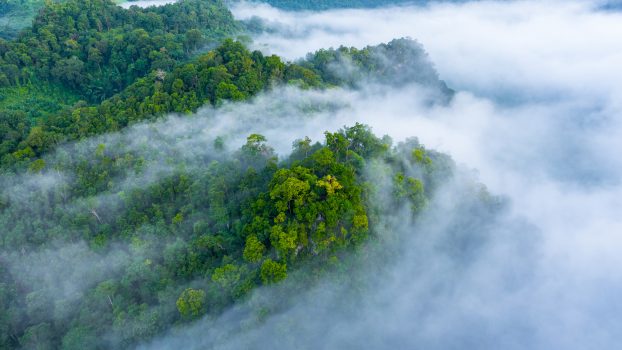 Our Team
Protecting rainforest is a challenge that needs incredible people. We're grateful to have a creative, smart and committed team of fifty across three continents. All fighting the climate crisis alongside our supporters and rainforest communities.
The Cool Earth Team
From forest monitoring and copywriting to website development and cacao farming, you'll find our team members working across Peru, Cornwall, Papua New Guinea and London.
Ali Skeats
Programme Manager
Ali Skeats
Ali works in programme management across Papua New Guinea and our rainforest partnerships with a range of NGOs. Her environmental interests lie in species conservation for healthy ecosystems, with a specialism in birds.
With a background in practical conservation and lab and field research, Ali's experience ranges from delivering teaching support for university students on conservation to behavioural ecology and consultant support for international NGOs.
Ellie Green
Rainforest Partnerships Coordinator
Ellie Green
With a background in community-based environmental management and an MSc in Environment and Development, Ellie is perfectly placed to work with our network of rainforest partnerships with NGOs on the ground.
Ellie has a keen interest in the overlap between environmental management and human rights and justice.
Emily Cooke
Emily is a digital designer with over seven years of industry experience creating and designing for brands, charities, and creative agencies.
Passionate about using her design skills for good and fighting climate change, Emily leads on design at Cool Earth.
Lauren Vyvyan
Business Partnerships Manager
Lauren Vyvyan
With over a decade of expertise working with businesses and brands to develop impactful partnerships with purpose, Lauren leads on the development of strategic business partnerships for Cool Earth.
Lauren is dedicated to growing successful environmental initiatives across the private sector and is committed to working alongside inspirational and ambitious businesses and individuals striving to affect positive environmental change.
A passionate advocate for sustainable living, Lauren leads on Cool Earth's sustainability certification with interests in horticulture, gardening, and food production.
Lewis Gillingham
Brand and Content Producer
Lewis Gillingham
Lewis manages the creative team at Cool Earth alongside creating photography and film and works closely with our Designer to drive digital content for our organisation.
A self-shooting content producer, including specialist camera skills such as drone operation and timelapse photography, Lewis thrives on creating story-driven content through multiple language barriers in line with the highest ethical standards, and bringing it all together in the edit.
With a degree in Marine & Natural History Photography, Lewis can often be found on location with a camera in hand or drone up above – whether that be on the beaches of Cornwall or the rainforests of Papua New Guinea.
Isabel Felandro
Programme Manager
Isabel Felandro
As a programme manager at Cool Earth, Isabel lead's the Peru team on conservation projects with indigenous communities to protect the Amazon rainforest and support people's wellbeing using her specialist knowledge across environmental policy and law,  gender and climate change.
With an MPhil in Environmental Policy from Cambridge University, Isabel has previously worked as a legal consultant for the Peruvian government on developing environmental policies. Other work experience includes consulting and developing technical-legal research for international organizations such as the United Nations Environment Programme (UNEP) on issues related to gender and climate change and with the  UNEP WCMC and The Nature Conservancy (TNC) focusing on environmental impact assessment and biodiversity offsets reforms in Peru and Latin American countries.
Her interests include climate action and sustainable development, gender, and a community-led approach to conservation.
Clifford Yaee
Forest Monitoring Coordinator
Clifford Yaee
Clifford's love of conservation and wildlife and working with people to protect the environment started in his previous career in ecotourism.
With a Bachelor of Science Degree in Biology and a background in teaching, Clifford enjoys working with local communities to mitigate climate change and forest degradation through conservation, and addressing socio-economic problems in society through basic livelihoods development from sustainable conservation and ecotourism projects.
Louise Batty
Fundraising and Engagement Coordinator
Louise Batty
With a background in marketing and customer service, Louise is a digital marketer with a focus on social media, digital fundraising, and not-for-profit retail.
Growing up in Oceania, Louise experienced the impacts of climate change and sea-level rise first hand and has seen the effect it has on people and the planet, which drew her to working in the climate sector.
Magda Pieta
Business Partnerships Executive
Magda Pieta
Magda joined Cool Earth with a background in publishing in the commercial sector and a keen sense of social justice. She looks after a diverse range of businesses partners at Cool Earth, including national companies, independent start-ups, and certified B Corporations using business as a force for good.
She has a passion for driving inclusivity within the climate change discourse, believing that true climate justice means engaging everyone, not only the powerful and privileged.
Catherine Mauch
Digital Project Coordinator
Catherine Mauch
As Digital Project Coordinator, Catherine stays busy managing all digitally-led projects from websites to rebrands and is responsible for Cool Earth's data protection.
Catherine has an undergraduate degree in Environmental Science and previously managed reforestation and mitigation projects alongside New York City's Natural Resource Department.
Lelebo Betuela
Eco-enterprise Coordinator
Lelebo Betuela
Lelebo worked for eight years as a business development officer in the public sector, and in policy and advocacy in the private sector developing her skills and experiences in business development, project management, financial literacy training, research, public policy & advocacy.
As an Eco-enterprise Coordinator in our Papua New Guinea team, Lelebo works alongside communities to be financially literate and independent and is dedicated to the growth and development of her people, community, and province, ensuring rainforest communities are at the heart of all that she does.
Martin Simonneau
Programme Manager
Martin Simonneau
Martin works in programme management across many of our projects with NGOs and rainforest communities. Working with marginalised people drives him to research participatory approaches to conservation, development and aid to design equal working relationships between NGOs and the people they back.
Having been privileged enough to have seen the rainforests of Central and South America and its peoples, his background includes working in fair trade and community-led conservation and development.
Martin's interests span from environmental and climate justice; the diversity (and complexity) of human cultures; indigenous rights; climate activism and current affairs.
Nog Sawdon
Trusts and Philanthropy Manager
Nog Sawdon
With a background in International Relations and Media and a decade of fundraising experience, Nog Sawdon heads up Cool Earth's Trust & Foundation relationships, and works on a a range of grant and donor proposals including Universities and major gifts.
She is adept at understanding each organisation's unique criteria, aligning those with our specific projects and then developing them into mutually beneficial long-term partnerships.
Shannon Kessell
Individual Giving and Engagement Manager
Shannon Kessell
As our Individual Giving and Engagement Manager, Shannon is responsible for developing Cool Earth's individual giving programmes.
Shannon has a background in digital communications, editorial copywriting and a degree in English Literature from Goldsmiths University. When she isn't looking after our donors, she is writing digital strategies and compelling fundraising copy.
Living by the coast, Shannon has a passion for protecting our oceans, as well as rainforest.
Sophie Smart
Finance Manager
Sophie Smart
With a background in management accountancy, operations management and insurance across the commercial sector, Sophie brings a wealth of experience to Cool Earth.
When she's not delivering financial reporting and analysis to the leadership team to help drive future strategy, Sophie works closely with our fundraising and programmes teams on data-driven financial insights to maximise both our income and our impact on the ground.
Matt Proctor
Impacts Analyst
Matt Proctor
With a love for all things satellites and coding, Matt works closely with local and indigenous communities to combine traditional knowledge with technology and big data, so we can do the best job possible to decolonise data and protect rainforest.
With experience both out in the field and strategic work developing monitoring software, a background as an analyst in the commercial sector and a degree in Maths from Exeter, Matt is perfectly positioned to lead on our forest monitoring work.
Tom Carter
As Cool Earth's Copywriter, Tom is a creative thinker specialising in copywriting, disruptive thinking, and articulating big ideas.
When he's not working on our latest campaigns, Tom supports our wider team with content creation and writing killer taglines.
His environmental interests include food waste and food poverty, activist communications and making brands do good.
Tory Kuria
Conservation Coordinator
Tory Kuria
Tory is a senior environment specialist and has over 19 years experience working for government, industry and private organizations in Papua New Guinea.
As a Conservation Coordinator for our Milne Bay projects, Tory works with rainforest communities to protect the remaining rainforest from emerging land-use pressures including palm oil plantation development and logging operations.
His expertise includes Forest Landscape Restoration, Conservation and Management of Threatened Ecosystem, Community Engagement, Livelihood Improvement, Environment Impact Assessment (EIA), Biodiversity Assessment, Environmental Compliance Management, Invasive species Management and Botanical Exploration and study.
Over the last five years, Tory has worked with the Wildlife Conservation Society (WCS) as a Forest Ecologist on a variety of projects, including establishing eight permanent community forest nurseries throughout the four provinces in the highlands of Papua New Guinea and restoring over 60 hectares of montane degraded forest to significantly and demonstrably reduce deforestation in the Bismarck Mountains of Papua New Guinea to strengthen local livelihoods and conserve biological and cultural diversity.
Tory has a Bachelor of Science Degree in Forestry and is currently a deferred MSc student in Plant Taxonomy with the Institute of Ecology and Evolutionary Biology at the National Taiwan University.