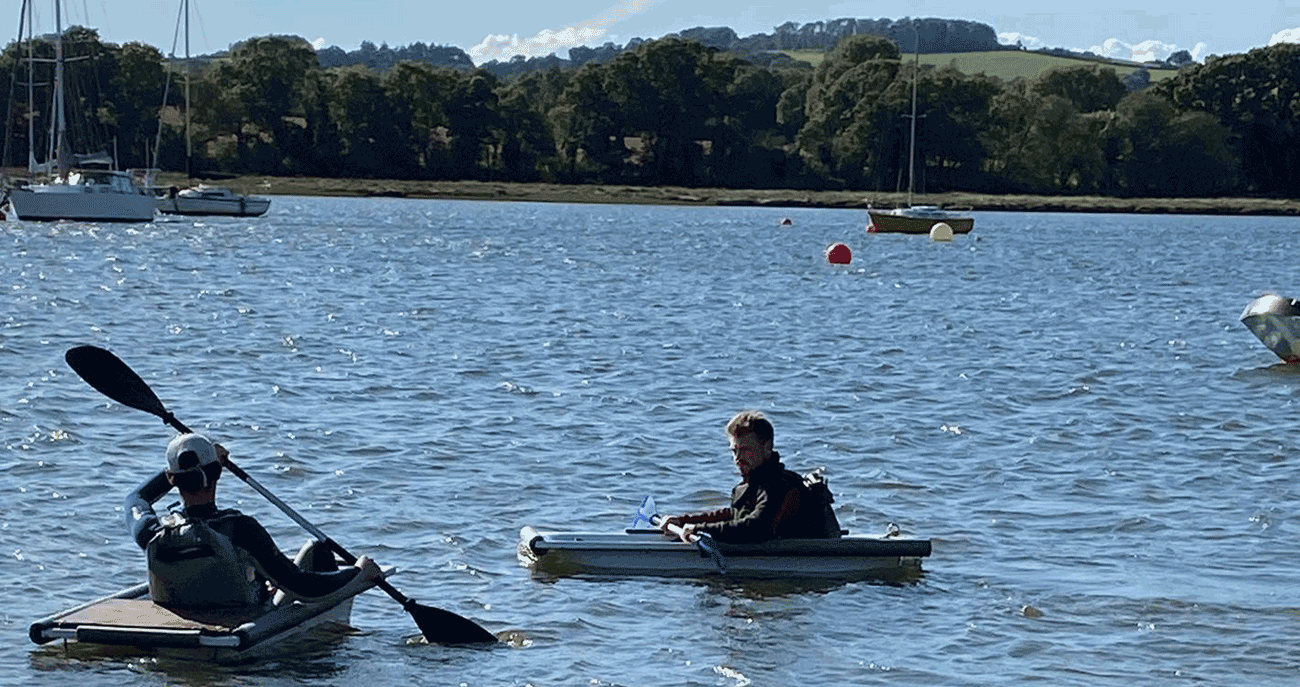 Sailing bathtubs for rainforest
Sean, Aj and Dan had a rocky fundraising adventure sailing steel bathtubs down the river Tamar, UK.
3 lads, 3 tubs, 1 river, all for rainforest.
Bathtubs. Whether they are the steel variety like the ones Sean, Aj and Dan stumped for or any other type, baths are rarely used for anything else but bathing in, right?
People have been known to brew booze in them, or filled full of baked beans and sat in for charity, in the UK at least.   We're pretty sure no one has looked at a tub and thought, "I could sail that down a river"… Well Sean, Aj and Dan did. They are quite possibly the best (and only) bathtub sailors of the river Tamar in Devon, UK, in history.
This is their fundraising tale.
This rainforest-protecting adventure was not planned as thoroughly shall we say as the bathtubbin' trio would have liked  "50% planning, 50% idiocy and optimism". At first the English Channel was in their sights, then the Thames and as the window for opportunity got smaller and smaller the Tamar was chosen (and not  just because of the alliteration with Tub  although Tubbin' Tamar does have a ring to it). Having found creative and almost always painful ways to fundraise in the past like barefoot running and the Rickshaw Run, paired with a lot of love for our people-first, Indigenous-led work (aw shucks thank you) it wasn't long before the tubs were acquired, modified and out on their maiden voyage.
Day 1: Walking a disobedient dog made of steel.
3 steel bathtubs, 240kg in total, were dragged across 5km of granite strewn high altitude moorland 15km downstream from the source of the river Tamar. Which, on arrival, was ankle deep. Extreme heatwaves the UK had dried it up. "it's a bit ironic that we're trying to protect the climate and our fundraising was scuppered by adverse weather", that irony isn't wasted on us Dan. "It was like walking a very disobedient dog made of steel for 9 hours", there really was a glint of disbelief (and some grimaces) that they actually did this. The day consisted of 95% dragging and 5% paddling. That was the first 11 hours of the trio's push to protect tropical rainforest. Ouch.
Day 2: White water rapid bath, not bubble.
After lugging bathtubs down dry riverbeds water, water suitable for sailing bathtubs in, was found. And when we say water what we really mean is white water rapids.  Unfortunately one tub was put out of action meaning Sean took up the much needed role of chief morale officer and photographer. The adventure continued spurred on with advice and encouragement by both bemused and delighted locals racking up a total of 9km and some serious dents. A little light trespassing and copious bucketfuls of bailed out water they had made some good progress.
Day 3: Fundraising. A get out of jail free card.
Doing something for charity can be like a get out of jail free card because despite the continued civil disobediences people were incredibly supportive of their admirable and unusual fundraising trip. It sounds as if the most enjoyable paddling happened right up until one the tubs sunk completely just 15km from their final destination of Plymouth. The fundraising operation pivoted to become a river rescue one and luckily not for a person but a tub. "Littering the Tamar river with a bath tub was a situation completely against the message we were out to promote", AJ both wincing and laughing perhaps rather than crying. It turned out if you're going to sink a tub the mudflats where Tub no.2 lay was the best place for it. At the next low tide it was rescued despite there being no Google articles for how to do so. They checked.
Day 4: Pros, cons and stupid wisdom.
After all that the intrepid bath tub sailors cut their losses. Whilst they didn't arrive in Plymouth via tub but they did arrive to reflect on their fundraising success because despite the holes in the plan, a sunken tub and very little rain, it's a fantastic story.
In true radically optimistic style here are 3 things from the Tubin' Tamar lads that any fundraiser could think on to create a story that turns heads and empties wallets for rainforest.
1) Have people close by to support you, to keep you going and motivate you when you need it, preferably on dry land and not also in a floating bath tub.
2) If it's going completely pear shaped, style it out. Fundraising has the word fun in so don't stress too much, doing something is better than doing nothing at all.
3) Do something stupid.
The third point resonates with us.
We know, thanks to our long standing collaboration with The Adventurists and to the recent success of the coolest fundraiser ever, the Race for Rainforest, that stupidity or unusual-ness is a surefire way to get attention. The truth is there is so much sensibleness and seriousness in fundraising that the fun part can sometimes be forgotten. Having a herd of bulls watch you as you drag a steel tub down a dry riverbed is stupid, ask anyone, they'd agree. It's also a fun story and stories compel people to take notice and act.
"Doing something stupid really encouraged the donations"
– Dan.
Straddling the line, doing something stupid and creative can really pay off. In fact there is still time left to back Dan, Sean and Aj for their efforts here and if you're inspired to do something to get cash into the hands of people that protect rainforest, now is the time to act.
Thank you Dan, Aj and Sean!
Watch the film here: