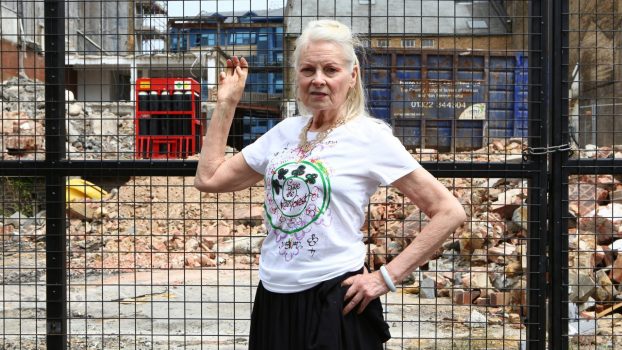 Vivienne Westwood's Rainforest Saving T-shirt
Cool Earth's dear friend and Patron, Vivienne Westwood, has designed an amazing limited edition charity t-shirt in support of rainforest communities from Peru to Papua New Guinea.
Available for a limited time at CharityStars.com/Vivienne-Westwood
Vivienne's support of Cool Earth and her commitment to protecting the world's rainforest is unparalleled, using her influence to rally support for a cause close to her heart.
Having visited Cool Earth's partnerships in the Peruvian Amazon, Vivienne and Andreas are tireless supporters of the people-led conservation model that is keeping a million acres of rainforest standing. Vivienne has built a career on being ahead of the game, finding affinity with a relatively small charity that works; redefining rainforest conservation since 2007.
A note from Vivienne
"Saving our planet's rainforests has been a cause close to my heart for a long time. Not only do rainforests contain six million species and contribute to twenty percent of all of Earth's water and oxygen, but they are also home to more than 350 million people. If that's not enough reason to protect rainforests, deforestation contributes significantly to all CO2 emissions, making it a major cause of climate change.
The fight for our rainforests could quite literally save the world. That's why I've decided to help raise money for Cool Earth, a foundation that has saved nearly a million acres of rainforests. What they do genuinely works, and their results have continued to impress and move me.
I'm asking you to join me in this battle for our planet. I've specially designed a shirt for the cause, and if you purchase it, you'll be making a difference.
Spread the word, wear the shirt, take a selfie and make a difference with me. Thank you."