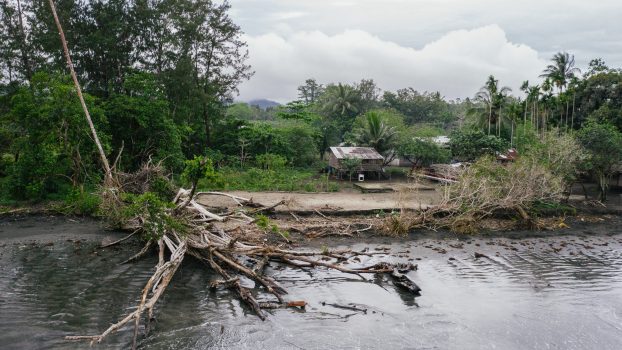 Conservation in the face of violence
Your donations don't just protect rainforest.
To call the Papua New Guinea Cool Earth team committed to climate justice in the face of adversity is an understatement. Your donations have enabled crucial rainforest protection to continue despite a recent spate of gang violence, police blockades and shootouts in Alotau, Papua New Guinea (PNG).
We must continue to put people first so they can protect the natural world – and this includes our team based in Papua New Guinea.
For Cool Earth, the safety of our teams comes first, and we take all the measures we can to ensure their protection. Our team on the ground wanted to continue to work safely wherever they could, and with your support, this has been made possible.
With help from you, we have provided two off-road vehicles with drivers and mechanics which travel in convoy to mitigate the risk of ambush, robbery and to counter any breakdowns so essential fieldwork can be carried out. Alongside this, we have provided alternatives to public transport in the city for our staff to travel safely back to their homes.
Our teams in the field are inspiring and will stop at nothing to protect rainforest.
When it comes to climate action, time truly is of the essence. Our PNG team doesn't just know this; they act on it.
We spoke to John Gonapa, our senior manager in Papua New Guinea who said:
"We are not aware of why and how this unrest came about, and where it will end up, but at Cool Earth PNG we remain focused on our work saving rainforest with the communities."
The violence has continued to delay vital work on top of the ongoing pressures of Covid-19, but the provision of safe transport has gone some way to overcome these challenges, so that essential work does not grind work to a halt. There are now signs that tensions are starting to ease which means less pressure, anxiety and fear for all those living in affected areas.
Acts of violence and corruption exacerbate hardship, poverty and the exploitation of our planet's most precious resource.
Your donations help our team undo what has been done through your commitment to climate justice, whatever the circumstances.